http://chartmasters.org/2017/07/understanding-the-ravaging-impact-of-download-sales-2004-2014/
When something dies down, there are two ways to feel about it – Rest In Peace or Good Riddance. The choice is easy while speaking about the music industry-killer from iTunes, legal downloads. They downgraded way more physical sales than they were worth by themselves. It raised many questions, such as how many copies would Rihanna's Good Girl Gone Bad or Katy Perry's Teenage Dream have sold had they been released during the 90s. It is time to get an answer!
How will I proceed? I'll start by posting a comparison on all the albums that achieved 5 or more Top 10 hits in the US, which will highlight truly shocking results. This will include information on artists ranging from Michael Jackson, Janet Jackson and Madonna to the Black Eyed Peas, Rihanna and Fergie.
Then, we will go to an higher-level analysis with careful checks of the UK music industry results during the last 20 years, themselves showing incredibly enlightening figures. It will show how Adele has been able to sell terrific numbers under during a chaotic climax. It will also prove both methods applied to both markets, the US and the UK, conclude on the same negative impact of iTunes over the music industry.
In fact, for a long time we lived under the lie told that all artists were equally impacted by the music industry crisis. The reality is that the most downloads an artist sold, the most impacted they have been. How can I come to this conclusion? Well, the next pages explain it all!
Putting the 5 Top 10 US Hot 100 Hits in its context
Chart books recall the numbers. They avoid the meaning though. We can't just list the albums that achieved 5 top 10 Hits and act as if the feat was equally easy/hard to achieve regardless of if an album was released in 1967, in 1982, in 1997 or in 2012. Indeed, history proves the feasibility of that result evolved a lot throughout the years.
The first artist who's album achieved 5 Top 10, Hot 100 hits, was Michael Jackson's Thriller nearly 35 years ago, when it raised the previous record, held by his own previous LP Off The Wall, from 4 to 7. By doing so, the legendary moonwalker proved to the music industry that issuing various tracks from the same album only over the course of 18 months could be profitable if hits were successful enough.
Following this newly identified path of success, the likes Bruce Springsteen, Lionel Richie, Janet Jackson and Madonna soon made 5 or more Top 10 hits from one album too. A total of 16 LPs released from 1982 to 1989 achieved the feat. The introduction of Soundscan slowed down the trend as sales appeared to be way more front-loaded than old Billboard charts suggested, thus the bulk of sales happened before the Airplay peak more often than not. Janet Jackson's Janet and the Waiting To Exhale Soundtrack still managed 5 top 10 hits during the first half of the 90s.
From 1996 to 2003 though, no album made it. No big album? The point was more about the industry deciding to promote songs on radio without releasing a physical single. No Doubt's Don't Speak is a screaming example, this massive smash never entered the Hot 100 for that reason. With the biggest hits left out and at most 2/3 songs at most properly issued as physical singles, it was near impossible during that period to make 5 Top 10 hits.
By 2003 though, sales of singles were so rare that it became possible to make the Top 10 based on Airplay alone. Thus, in 2004 Usher joined the club of those elite hit makers with his Confessions era.
Then came iTunes. With singles beginning to sell again, now in download format, the combo sales + airplay was alive again so albums with various hits started to appear. From 2006 to 2010, one album per year got at least 5 Top 10 Hits. In 2006, it was Fergie's Dutchess, 2007 was the year of Rihanna's Good Girl Gone Bad, 2008 the one of Fearless by Taylor Swift, 2009 was massively dominated by the Black Eyed Peas smash era The E.N.D. while 2010 saw Katy Perry drop big #1s with Teenage Dream.
I'll instantly exclude the album Fearless. As much as 3 of its 5 Top 10 hits were buzz singles. This was thanks to heavy first week downloads before disappearing. They weren't big singles-era by any means, indeed Fearless as a whole belongs more to the category of the blockbusters than the hit makers. More on that later.
Thus, we are left with 23 albums with 5 or more Top 10 hits. If the criteria evolved through years, they all remain ultra successful releases. Ok good, but what can we do with that? Easy, we can extract extraordinary conclusions from them while studying their sales. We will quickly see that while those recent albums achieved similar success on the Hot 100, like their predecessors, their success was unfairly rewarded in the album-front…
Analyzing sales of the Hit Makers albums
Let's start with up to date Soundscan sales of the digital era albums from the hit makers category.
3,975,000 – Fergie – The Dutchess
3,300,000 – Black Eyed Peas – The E.N.D.
3,050,000 – Katy Perry – Teenage Dream
2,880,000 – Rihanna – Good Girl Gone Bad
The first striking conclusion is how close they all are. Coincidence? Of course not. Albums with Top 10 hits are albums which get Pop 40 Airplay, albums with popular tunes aimed at the 12 to 25 years old population, exactly the same age group that was downloading. The lead of The Dutchess make it look like a bigger album. The truth is that with 6 weeks at #1 on he Hot 100, its singles have the weakest showing of the aforementioned four records. One question comes in – was it really bigger, or is it higher simply because iTunes was still not that big, consequently damaging it on a lower extent than the remaining albums? No doubt there, that's the correct interpretation.
None of those albums belong to the very top selling albums of the last 10 years which may seem surprising since they got more hits than the others. It is because the target audience of hits is limited to regular music buyers, which are numerous but will always be lower than an album attracting regular buyers and occasional buyers, something records from Adele, Taylor Swift or Nickelback have been able to do.
What happens when we compare those 2005-2010 albums to the historical hit makers albums from the 80s?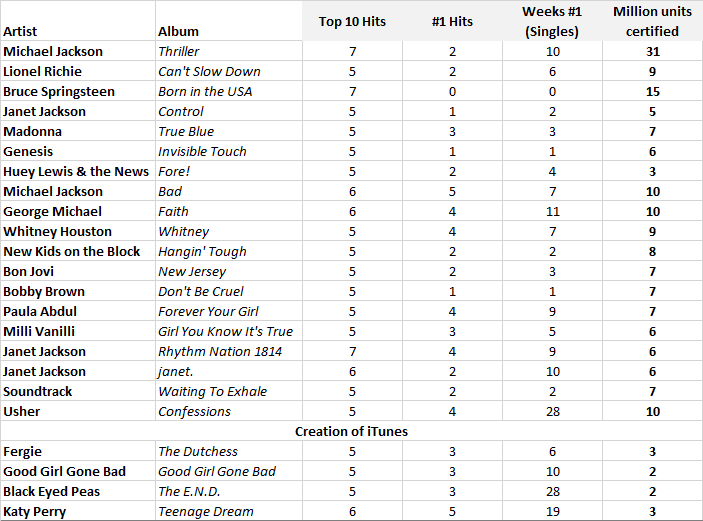 Please note certifications based on equivalent album sales from singles sales / streams have been excluded for comparison purpose
All three Janet Jackson's albums, certified 5/6/6 times Platinum, have outdated awards with real sales over 7/8/8 million respectively. Invisible Touch by Genesis has also not been updated in more than 20 years too, while Milli Vanilli LP was last certified in January 1990. Obviously, it isn't a good catalog seller, but RIAA rules were changed years later to allow all Records Clubs sales, which mean those units are unaccounted for on the case of Girl You Know It's True. In other words, 18 out of the 19 albums that had at least 5 Top 10 Hits pre-iTunes sold close to 7 million copies or more.
Both Thriller and Born in the U.S.A. belong to the blockbusters category, appealing to consumers from all fronts. Apart from them, we can also notice that the remaining 17 albums sold 10 million copies or less. This is in spite of 70 albums hitting at least 11 times Platinum. Interestingly, we met the exact same situation than with post-iTunes hit makers albums: solid sales, all very close, but not among the very top sellers. Those top sellers often contain 1 or even 0 Top 10 hit as they focused the promotion over the pure album format.
So, how have we gone from albums which dominate the Top 40 Airplay stations for 18 months routinely shifting 8 million copies to barely 3 million? Weaker Top 10 Hits? Clearly not, on average post-iTunes albums have more #1s and way more weeks at the top of the Hot 100 than previous albums. Lower market? While that would seem true, by the time Fergie's album came out, the album market was at 649 million units in the US, a massive 50% ahead of the 430 million albums sold in 1982 by the release of Thriller. When Good Girl Gone Bad came out, the market was higher than every year from 1982 to 1986, which hasn't prevented the six hit makers albums from those years to move from 7 to 31 million units each. More years of catalog sales for 80s records? While this is partially true, most of those LPs have long been replaced by Greatest Hits-type albums, while the four 2006-2010 records haven't, precisely because iTunes made those compilations irrelevant.
We are left with the conclusion of hit makers albums dropping from 8 to 3 million in sales on average, a harsh 60% drop, although the market was basically equivalent. The only sensible explanation is that those album sales have been cannibalized by an other format, in fact by downloads of singles. Here comes the evidence…
Analyzing charts of the Hit Makers albums
From the previous page table which lists all those mega-successful eras, let's add a column with the number of weeks inside the Top 10 managed by the album.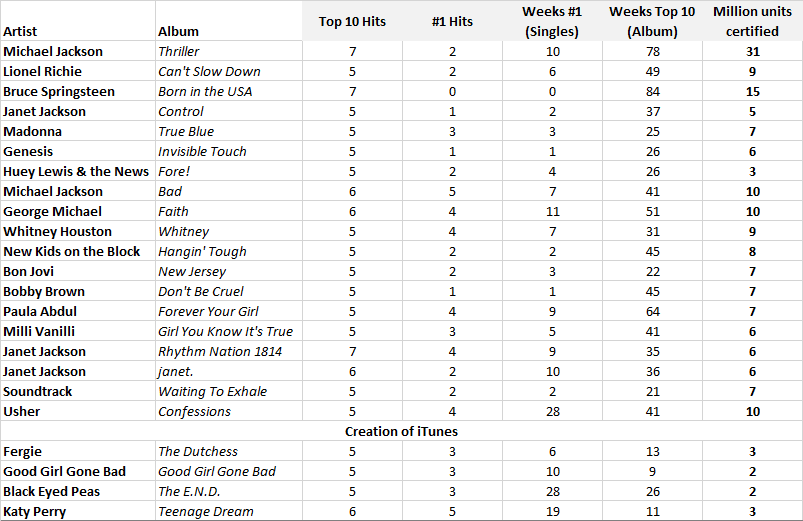 Results are a true shocker. From the 19 pre-iTunes albums, only three lasted less than 6 months inside the Top 10. They still lasted 21-25 weeks on it and were follow ups of Diamond albums – True Blue and New Jersey, following respectively Like A Virgin and Slippery When Wet – or a Soundtrack, explaining why they sold huge numbers in a relatively short time frame. Overall, those albums averaged 42 weeks inside the Top 10. This average drops to less than 15 weeks for post-iTunes monster albums. Those four LPs even combine for a dreadful 14 weeks inside the Top 5 album chart and a disastrous 2 weeks at #1. How is it possible that albums which registered 14 #1s hits that lasted 53 weeks at the top of the Hot 100 averaged the ridiculous tally of 3,5 weeks inside the Top 5 Album Chart? Things get ever worse when we consider that both Good Girl Gone Bad and Teenage Dream got extra-weeks high on charts thanks to heavily successful new editions.
In the other side, those four albums combined amassed 175 weeks inside the Top 20 and 274 weeks inside the Top 40 album chart.
To resume, while during the 80s-90s the norm for an album enjoying Pop Airplay hits was sitting comfortably inside the Top 10, during the downloads era it the norm became to barely hang around the Top 40. This proves hit makers were damaged way more strongly than other artists by the arrival of iTunes. I previously mentioned the target audience of those artists are the regular buyers that are from 12 to 25 years old. From 2005, those over 21 continued to buy albums as they had that habit already and a bit of money to afford those purchases. Fans from 12 to 20 years old though were still not into buying albums and had less money, thus jumping on iTunes and their gift card when they started to pay for music. This is how artists like Rihanna lost 60% of the sales they should have got 20 years earlier when the market overall was similar but iTunes wasn't here to destroy artists able to register popular hits.
As years passed, by 2014 even 25 years old music enthusiasts were only 15 when iTunes came out, meaning the entire 12 to 25 generation of Pop Airplay stations listeners had never been into buying albums. That's how some songs went on selling 8 million downloads while related albums were struggling to make a real impact.
If we look at Soundscan annual reports over several years, we can easily identify that popular genres like Pop, R&B or Rap dropped way more during that period than Country, Jazz, Classical or Classic Rock music. As this is quite obvious, I won't invest time on showing it, instead taking a distinct approach to reveal the deep difference between hit makers albums and blockbusters albums.
Regular buyers vs Occasional buyers
Now that we understood that hit makers were more impacted by the arrival of iTunes, we must wonder why. I started explaining it with the target audience including a lot of persons that couldn't afford for big investments and that were still not used to buy records. One more key factor is the regular buyers vs occasional buyers logic.
The period of our life on which we are the most interested into music is by far the 12 to 25 years old period. We listen to a lot of music, on a very regular basis. Logically, those regulars consumers will be the first ones to move into a new format / evolution as they are way more aware of the current environment. People past 30 years old, that used to buy only albums of their favorite artists time by time, weren't likely at all to buy an iPod, create an iTunes account and start downloading music. Basically, the iTunes target audience was the same one as Top 40 radio stations target audience.
Looking at the contrapositive, it also means that non-regular buyers weren't using downloads much. So, if we concluded that downloading stand-alone tracks was the killer of album sales from 2005 to 2012, then it must mean that artists targeting an audience of persons not involved much into the music industry should continue to sell as well as before.
It is difficult to identify clearly albums belonging to this category. One specie remains though, the blockbusters. Those albums are those which got so big that labels promoted them on the biggest avenues, including the most expensive ones where it is usually not commercially viable to promote music records. Those albums will happen one time every 2 or 3 years, topping charts for 3 months or more. To point them out, below graph shows the #1 and #10 seller of each year in the UK since 1997 (left axis), along with the curve of the market evolution (right axis).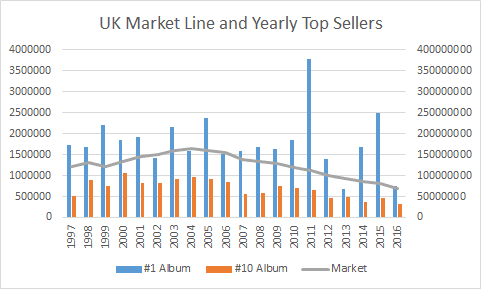 If you look carefully, you can notice the #10 seller of the year went up and down roughly the same way as the market as a whole. In the other side, the #1 seller doesn't follow this pre-defined path at all. This is precisely the result of some records appealing to consumers that are not part of the usual buyers, which thus do not impact much the overall market. The market size gives a very good indication of the evolution of regular buyers, but it doesn't help is defining the number of potential buyers around.
Occasional buyers – the Blockbusters Savior
As always, if a statement is true then it must be possible to prove it with real figures. How can we determine those potential buyers? The first instinctive information is the number of inhabitants a country has. Then, we must think about households, as the average number of persons per house went largely down in recent decades. Continuing the reasoning, not all houses used to have a record player.
This link will give you the number of households in the UK, while this one tells that by 1982, just before Thriller album release, 83% of them was equipped with a record player in that country. As every computer or smartphone is now a worthy record player, let's assume that number increased regularly up to 100% by 2011. What happens if we compare that number of record players in use (right axis) with the sales of the yearly #1 albums (left axis)?
We saw that the #1 album wasn't following the market curve at all. Thanks to this graph, we have one new enlightening conclusion – blockbusters of very different era perfectly followed the path of potential buyers as represented by the number of record players in use. Michael Jackson's Thriller and Bad, Robson & Jerome eponymous album in 1995, Shania Twain's Come On Over in 1999, Life For Rent by Dido and Back to Bedlam by James Blunt in 2003 / 2005, all those albums validate completely this theory. One potential buyer every 10 bought those albums on their respective big years. A terrific achievement.
From 2006, we see that non-blockbuster albums that were still big enough to top the annual charts were failing to come close to that 1:10 ratio. Year after year, downloads impacted those hit makers albums which lost ground more and more. In 2013, only 1 potential buyer out of 40 bought the #1 album of the year.
Once again, facts prove this situation. When we compare the annual #10 annual to the potential buyers, we can see a striking collapse of regular consumers. From 1998 to 2006 they used to be bought by 1 potential buyer every 18, as shown by below graph now it is 1 every 57.
Both albums by Adele proved the potential buyers argument continues to be 100% true. Divide by Ed Sheeran will also hit the blockbuster line in full this year. The figure of 21 by Adele is intriguing though – how is it possible that it sold so much more than the norm in relation to potential buyers? If there is one thing positive which has been brought by legal downloads, although the British diva is almost the only one that was cross-generational enough to benefit from it, is that they broke the household limit. During the 80s, the standard was to own one record player per house. It continued to be true during the 90s even if cars helped in adding some potential when their cassette format was distinct from the in-house record player, often a CD player. The arrival of iTunes converted every inhabitant into a possible buyer. This is how Adele over-performed so much the norm for record players limited to households as parents got the CD while sons downloaded the record. It enabled the album to be purchased by 1 every 7 potential buyer during 2011.
Everything in its right place
If we put together all conclusions from this article, we can commit on some fantasy figures. Had they been released 20 years earlier, albums like The Dutchess, Good Girl Gone Bad, The E.N.D. and Teenage Dream would all be on 7 to 10 million US album sales. The first two are weaker, so we can expect the lower part of that interval for them, around 7 million, while the last two are the strongest albums of all, which would have make them 9 to 10 million sellers. The 15 to 30 million download sales managed by all of them appear to be far from enough to compensate the units sold in the album front. At the peak of iTunes, every top 10 hit was truncating roughly 1 million sales to its parent album, while the said hit was selling at best about 5 million downloads. As they were way less expensive, this is a losing ratio which shows how much cheap downloads destroyed the music industry.
The result was a market limited at $7 billion per year in the US at their peak while consumers mechanics should have put it between $10 to $12 billion per year. It will get back up to that level quickly now thanks to streaming.
What about Adele then? As surprising as it may seem, all Soundscan-era top albums sold less than 12 million units over their first two calendar years. Come On Over by Shania Twain took 3 years to get there, the eponymous album of Metallica moved only 6 million in 2 years, Jagged Little Pill by Alanis Morissette and Millennium did 11,6 / 11,7 million, Bodyguard sold 8,8 million, Supernatural by Santana 10,6 million, One by the Beatles 8 million. Britney Spears, Eminem and Celine Dion Diamond albums plus the Titanic Soundtrack, all closed their first 2 calendar years under 10 million.
Adele's 21 itself moved 11,1 million units in its first 2 years, exactly in line with the remaining monster albums. We saw that iTunes opened the door for multiple purchases per household, which enabled 21 to break the glass ceiling of top-albums in the UK by about 30%. It hasn't made as well in the US, selling on par with the top 90s albums. The album combined both effects, losing several millions due to its singles download sales and gaining millions too thanks to the cross-generations purchases from the same household.  All in all, there is no reason to believe it would have sell more copies during its promotional campaign if released during the 90s. The difference would have come from mid-run sales thanks to record clubs, that would have grant it a few millions more on its 3rd to 10th year of sales. At best, this would represent 5 million sales, the result of Come On Over.
In absolute terms, that's about the same loss than hit makers albums. The difference is that this 5 million hole is worth a loss of 60% to the fantasy sales of Rihanna or Katy Perry  while only 30% of loss for Adele. The different impact is only the main reason that enabled the latter to get massively dominant chart runs. As hit makers albums were strongly deflated on charts, they left more room for Adele-like artists. This is how while albums of Fergie, Rihanna, Katy Perry and the Black Eyed Peas combined for 14 weeks inside the Top 5 US Album Chart, 21 got 81 weeks Top 10 in the US and 77 in the UK, X by Ed Sheeran stayed there for a ridiculous 95 weeks, Emeli Sande 67 weeks and the debut album of Sam Smith 76 weeks. Those artificially distorted charts made hit makers look like way less popular artists than they really are, something streaming is evidencing anew.
I hope this article brought you some insights to better understand the real success of all those artists. The next chapter will show how streaming is now changing the game with the deep impacts it is going to have on the industry as a whole and on recording habits. Stay tuned!
Sources: BPI, RIAA, Billboard, Soundscan, BARB, Chartmasters.org.